1945: Rejoicing at end of war in Europe
The Prime Minister, Winston Churchill, has officially announced the end of the war with Germany.
In a message broadcast to the nation from the Cabinet room at Number 10, he said the ceasefire had been signed at 0241 yesterday at the American advance headquarters in Rheims.
Huge crowds, many dressed in red, white and blue, gathered outside Buckingham Palace in London and were cheered as the King, Queen and two Princesses came out onto the balcony....(Beeb here)

(
here)
So many stories of England in WW2 are part of my heritage. As with so many families, the personal recountings have not been written down, but there are first person accounts on sites like the BBC. The
Womens Land Army
figures large with the home-front women of the 'greatest generation':



The Women's Land Army: We Will Never Forget

17-year old recruit Grace Jackson of Blackpool, Lancashire

The story I am about to tell is not so much about my life, but about a band of women who were seldom recognised, not always appreciated, and soon forgotten. Who were they? The Women's Land Army. Who, did you say? Yes, that is the reaction of most people.

Another year beginning, the war was still on. I didn't really have a happy home life. I had just been disappointed in love. You may think that at 16-and-a-half years old, I was a bit young to know about love, but we seemed to grow up faster during the war. Everyone seemed to be grasping happiness while they could.

The medical

I wanted to get away, and do my bit to help the war effort. I had always been a rather sickly child, and did not think I would pass a medical. Eventually, I decided to take a chance. I volunteered for the Women's Land Army. I had to take a medical by my own doctor. He knew my medical history, but thought it would be good for me.

My eyes, ears and heart were sound, so he passed me. In February 1942, I had to report to Preston. I received my uniform, which consisted of one hat, one overcoat, one pullover, two shirts, one overall, one pair of Wellingtons. All our underwear we had to buy ourselves. If anything was worn out or lost in under six months we had to pay for replacements. Some of us had to send a few shillings home. Myself, I used to send 15/= home. All this had to be done out of 22/6d wages. We had to go out to work in all kinds of weather. We worked from dawn until dusk. There was no such thing as overtime pay....
The rest of this personal recollection is a must read here. The BBC has done a great job of collecting the reminiscences of the ordinary Brits, who every day did extraordinary things during WW2. Go here for some of those.
VE Day, May 8 1945


Cheers!
A van load of beer passing through Piccadilly Circus on VE Day 1945.
Photograph: Keystone
(here for more pictures)



[...]Throughout the country, crowds took to the streets to celebrate victory and in London tens of thousands gathered outside Buckingham Palace to cheer the King and Queen.

Your memories

I was 14 when the war in Europe ended.

At work as we were leaving for home on the 7th May we were told the war was likely to end tomorrow. ..[...]

Keith Hume, UK...

8 May 1945 in Vancouver BC. The radio news of the end of the awful war saw me, age 14, joining some 100,000 happy, cheering people at Granville and Georgia streets.

People sang as they waved the Allied flags: Canada, UK, US, USSR, France, etc. A joyful universal feeling of peace, thanks and harmony united us - we were one!
Arnet Tuffs, Canada...[...]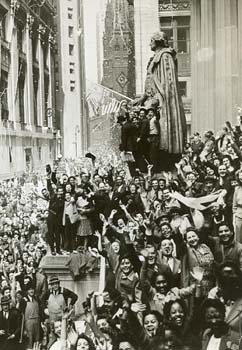 On Wall Street, New Yorkers celebrate the end of the war in Europe (credit: Copyright 310 Publishing, LLC. All rights reserved. here)
(
here)






VE Day Celebrations in Trafalgar Square, London

This is the crowd of people that gathered in Trafalgar Square in London on VE Day, celebrating victory in Europe during World War II. (copyright)
Then, as now, the huge numbers of those from the allies who gave their lives so that others might live free from tyranny, are made up of 'ordinary' individuals who stepped up and stood for freedom, with incredible acts of bravery.
Sgt Major Ken MacKinder. My own soldier angel. Forever.
Lest we forget.